14 Day Free Trial On Any Plan.
Streamline Your Marketing Campaigns in One Dashboard.
Approved Social: The Ultimate Tool for Digital Marketers and Content Creators to Collaborate, Gather Feedback, Approve and Publish Ad/Organic Campaigns. Saving Time, Boosting ROI.
The Next Generation of
Marketing Collaboration
1

Present your ad campaigns as if they were live
Get your clients on the same page! Present ad campaigns as they are, just as a Facebook ad preview or Google display ad banner. No other apps required.
2

Gather clear

real-time

feedback
Draw on the ad, pinpoint elements and leave comments on your ads! Accurate feedback means fewer back-and-forths and unnecessary meetings!
3

Keep track of versions as edits are made along the way
Switch from current to previous versions, track what edits were made to your copy and design.
4

Get approvals with just a click
Authorized users clicks "Approved" button and your project's locked in for publishing! It gives your clients control over what they've approved, so you don't have to worry about it!
5

Publish what's approved

— as is
Seamless API integration enables you to publish approved ads directly into each ad platform channel, improving internal control and eliminating "surprises" when going live.
Present, Resolve Feedback, Get Approvals, Publish
All In One Place
Client View

Real-time Chat

Agency View

Multimedia
content

User-friendly
interface

Cloud-based

Secured
Loved by digital marketers who value feedback and customer experience

"(Approved Social) No brainer. Getting our time back!"

"I know how challenging this can be. Definitely a need in the market for it, and I have struggled to find a good solution in the past."

"In a nutshell… a very useful and valuable tool to agencies."
Custom Portals
Clients receive branded portal to review and approve ad campaigns across all platforms. Keeping your campaigns organized by client.
Smart Markup & Feedback Tools
Give clients the right tools for clearer, more accurate feedback
Real-time collaboration
Cloud-based, access anytime and anywhere; Instant email notifications of edits or approvals on your ads
Magic links
For secured and easy file sharing
Seamless API integrations
Ad platforms and project management apps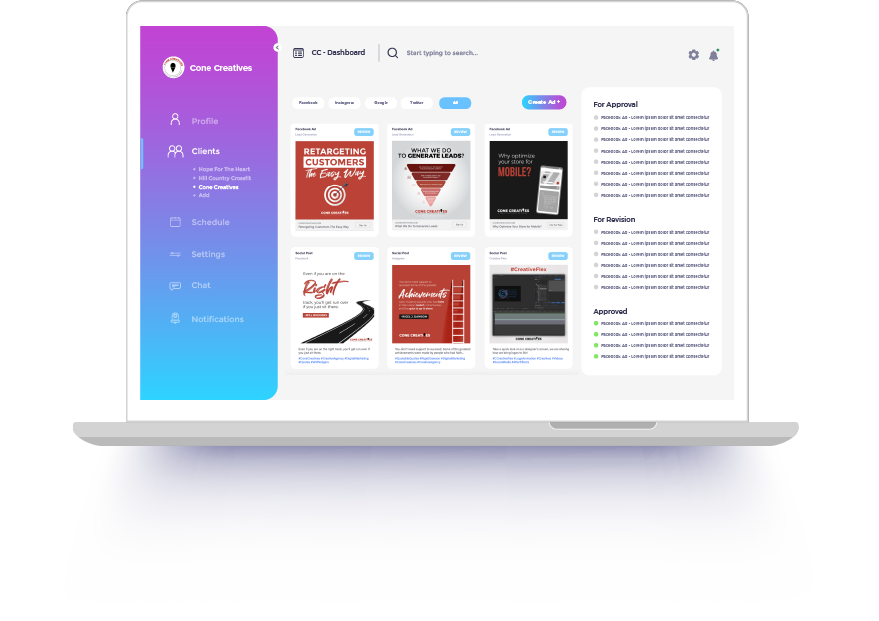 All-in-one solution
Changing the ad approval process one client at a time
Whether you are a freelancer or a large digital marketing agency,
we have the right plan to meet your needs.